Our products are distributed in the following ways: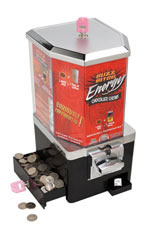 On-line: You can buy Foosh® Energy Mints and Buzz Bite® Chocolate Energy Chews directly from selected on-line sellers. We do not want to suggest one reseller over another, so feel free to "Google" and find them. (You can always buy from us, but you will miss out on all the other amazing products our online partners are offering!)
Are you interested in carrying Buzz Bites and Foosh in your on-line store? If you would like more information on our on-line distributorship program, please click here and fill out the questionnaire below and we will get back to you.
Retail: We are still a small company so you probably will not find Foosh Energy Mints and Buzz Bite Chocolate Energy Chews in every convenience store or truck stop. We have been adding retail locations rapidly so keep looking for our products.
If you are a retailer, broker or distributor calling on a class of trade that you believe should be selling Foosh and Buzz Bites, please click here and fill out the questionnaire. We are Foosh and Buzz Bite fans and customers ourselves. We love sharing our products with the masses. Our distributors and brokers do not have exclusive territories, but we do believe in account protection and so are happy to "assign accounts" to those that qualify as we determine in our sole and absolute discretion.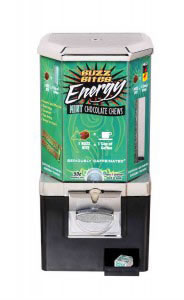 Vending: In the last year Buzz Bites have become available through conveniently located single serve vending machines. These machines are owned, placed and serviced by independent operators who buy product through independent distributors. These vending operators do not have exclusive territories and are free to place machines anywhere that they believe traffic will support the machine (obviously only with the approval of the owner of the premises), so keep looking for them! It is a very convenient way to get that burst of Buzz Bite energy when you need it.
These vending machines are only available used or from third party sellers who do not have any direct relationship with Vroom Foods, Inc. Vroom Foods, Inc. does not authorize any independent distributor or machine reseller to make any commitments or promises on behalf of Vroom Foods, Inc. regarding exclusivities including territories or retail accounts. Vroom Foods, Inc. will provide each operator with a royalty free "Limited Trademark License" that gives each operator permission to use our trademarks provided they agree to follow our trademark related policies.
If you are interested in vending opportunities involving Buzz Bites or Foosh Energy Mints, please call or email us for further information.