VENDING ANNOUNCEMENT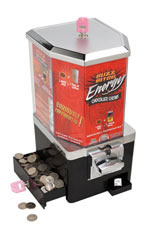 As many of you know already know Vroom Foods, Inc. relationship has terminated with Mad Dog Energy Products, Inc. Mad Dog and their affiliates sold vending machines and supplied Buzz Bites to those who owned the vending machines. You can read the announcement of this termination that was mailed out to vendors at: VENDING DISTRIBUTION LETTER (PDF File Size: 85k). Click here for SUMMARY OF OF MADDOG DISTRIBUTION TERMINATION

VENDING RESOURCES & INFORMATION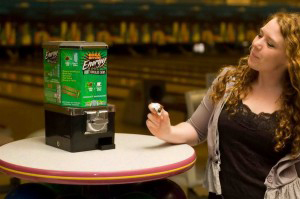 Looking to purchase vending machines that dispense Buzz Bites®? Rather than spend $300 - $400 per machine to buy from a biz op, you can purchase new and used machines on eBay for as little as $50. Another option is to take a look at: www.buzz-bites-forum.com. This is an independent forum about Vroom Foods products that was started by a vendor and has a "for sale" section. These are the exact same machine others are selling. Feel free to negotiate with these sellers directly for the best possible deal. Then, simply give us a call at 949-515-1616 to order your bulk single serve Buzz Bites®. Because we do not sell vending machines or own companies that do, we have no other motivation than to provide you with the same great product you know and love. Our minimum shipment is one case which contains approximately 1,440 chews.

Existing vendors, feel free to download and enjoy the resources below.
VENDOR MEDIA:
FIELD SHOTS (Opens Zip File Size: 2,089)
STUDIO SHOTS (Opens Zip File Size: 2,556)
TABLE TENTS (Opens to another page)
STICKERS TEMPLATES (Opens to another page)
SINGLE SERVE DISPENSERS ( Opens a PDF File Size: 89k)
PRESENTATION BOOK (Opens a PDF File Size: 3.3mb)
LEAVE BEHIND BROCHURE (Opens PDF File Size: 2,207k)

ATTENTION BUZZ BITE DISTRIBUTORS, we have a special "vendor only" section with additional resources for you. If you do not already have access to this site, please call us for access information. This site has special order forms, tips, updates, agreements and information about our 150 count displays.

Images and materials are property of Vroom Foods, Inc. and trademarks apply.
If you have any questions, please contact us.
Looking to become a vendor/distributor? Please click here