The Vroom Foods story began where most of the great ideas that have changed the course of history began – at 3:00 in the morning with a stubbed toe.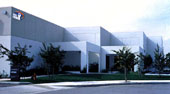 In 1996, Vroom Foods, Inc. founder, Jason Kensey was attending graduate school in Boston and, like most MBA candidates, was involved in way too many group projects. Also, like most MBA candidates, these projects would turn into frequent all-nighters where chugging down gallons of coffee or soda was the norm. Unfortunately, Jason had a problem – he wasn't a coffee drinker nor did he like the taste of energy drinks. That meant that in order to compete with his coffee swilling friends, he had to take frequent trips up and down three flights of stairs to the soda machine to get a can of his favorite high-caffeine, high sugar lemon-lime soda.
It was on one of these frequent trips to the soda machine that Vroom Foods, Inc. was born. That fateful night, he got to the machine at 3:00AM, put his money in the machine and pressed the button. The soda machine was broken. Like many well-adjusted people at 3AM, he slammed the button really hard, shook the machine and yelled at it like it could hear him. Then he kicked it…
… and he wasn't wearing any shoes.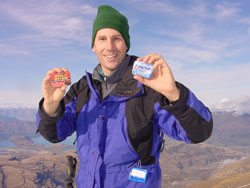 After dropping to the floor, grabbing his toe and letting out a stream of words that we won't repeat he finally said those magic words:
"There has to be a better way!!"
Ding! We're not going to say that angels flew around Jason's head and trumpets went off, but the seed of an idea had been planted – Why can't I get all the energy I need without all the hassle of coffee or the sugar and water of a bad tasting energy drink? That was the genesis of Vroom Foods, Inc.
The idea floated around in Jason's head for awhile, and even made it into a couple of papers for his MBA classes.
Eventually, he decided to take matters into his own hands. Leaving his good paying job behind, much to the anguish of his parents, he spent the next three years developing FOOSH® Energy Mints. It was a pretty intricate process getting all that caffeine, B vitamins, ginseng and taurine into one tiny mint. Friends would tell him to cut back on the caffeine to improve the taste, which would then end the development. However, Jason thought that it would be pointless to have another modestly caffeinated mint product so he kept trying to figure out a way to have a mint strong enough to be referred to as "seriously caffeinated" mint that tasted good. He believed that people wanted powerful, portable bits of edible energy.
He conducted over 500 taste tests, spent tens of thousands of dollars and answered multiple inquiries from neighbors who wanted to know why the whole neighborhood smelled like mint. Development took longer and cost more than expected. Once credit cards were maxed and more development money was needed he turned to Ebay. You might have bought something that was once his – Bose Radio, Bionic Man and GI Joe.

Eventually, the formula was perfected, resulting in the most Shockingly Powerful Energy Mints you can get anywhere.
Today you can enjoy not only a Foosh® Energy Mints, but also Buzz Bite® Chocolate & Mint Chocolate Energy Chews. It has the same energy formula, but in a tasty chocolate chew. Vroom Foods is expanding rapidly in order to meet a growing national demand. Now Vroom Foods employs a team of people and our founder is now looking to buy back items like he sold on Ebay including his mint condition GI Joe. We hope you will join us for the journey. The rest of the story is just beginning.