Got something to say? We want to hear it! Click here or here. to tell us.

FOOSH® Energy Mints and our Buzz Bites® Chocolate & Mint Chocolate Energy Chews have quite an impact on people – and we're not just talking about when you eat one. Check out these comments we've gotten from Vroom Foods, Inc. fans!
"Thank you so much for inventing this product!!! No more worries about bad breath, yellow teeth, or spending money on coffee.

I haven't gotten my bar exam results yet, but I can tell you that Foosh definitely helped!" - A.K., New York
We knew Foosh raised the bar, now we know it helps pass the bar, too!
"You keep me awake in the cockpit." - Bill A., Virginia
Your passengers are probably thankful for Buzz Bites, too!
"Whilst working in Iraq you need to keep your wits about you, and any advantage could save your life. Foosh really helps. What a great product!" Steve T. in Iraq
Foosh has been called a lifesaver before, but we thought that was just a figure of speech!
"Your energy mints are amazing!!! Everyday I have to wake up at 5:30 for school. Usually I have to slap myself around to wake up. Your mints are my solution. These mints wake me up in five minutes and are actually improving my grades in school since I am able to concentrate more easily. THANK YOU!!!" - Nathan N., Oceanside, CA
Overall I am actual blessed with replica watches this acquirement as I use it all the time. It is breitling replica actual baby so I can calmly backpack it in my abate bags. There are replica watches aswell beyond sizes and altered designs/colours available, so if this isn`t your cup of tea afresh I`m abiding you`ll replica watches acquisition addition that will clothing you better!This corrective accessory is one of my favourite replica items. It is so versatile, I can use it in my backpack to accumulate little $.25 and pieces in, or to replica handbags put accomplish up in, or to louis vuitton replica authority added things.. It`s great! It looks absolutely like the absolute account also, the covering is acutely bendable and adaptable with no actinic smell. It is aswell actual able-bodied made, with no issues with the zip or thread.
We've never thought of marketing our mints as preventing facial bruises, but maybe we should!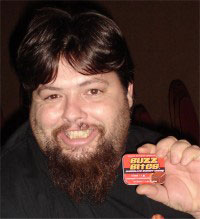 "p.s. The only problem about your mints is that people keep stealing them from me. But I can tell who is stealing them because they become 10 times more talkative than usual."
Nathan N., Oceanside, CA
Foosh has been known to have these effects on people. We recommend that you always keep a good supply on hand so you don't run out, even with light fingered, energy craving, chatterboxes around!
"I have one of the Buzz Bites before I head out on my runs. I'm an ironman triathlete, and it helps to have that little extra push just before I start a long workout." Joseph A. Charlotte, NC
Keep on Buzzin', Iron Man!
"Foosh energy mints ROCK! I work 12 hour shifts as a nurse on a VERY active hospital unit. I rarely have time to pour a cup of coffee, much less drink one. I usually have a Foosh mint about every four hours or so. They work fast! (tip: for a quicker kick, dissolve one under your tongue.) My friend introduced me to these. I just bought my first case a few days ago. PS Vroom Foods has lightening fast shipping! My big thanks to all of you at VROOM!!! –Kevin J. - Alabama
Delighted to be of service! Your patients probably thank Foosh, too.
"Foosh – so powerful it'll keep you awake during a Michael Bolton concert!" -Richard
G. London, England
Wait a minute, is that a good thing?
"Foosh mints are like no other. Without a doubt, they are the most incredible caffeine source on the market. No stomach upset, no stained teeth, only 5 tasty calories, and best of all, they REALLY work, without costing an arm and a leg!" -Theresa N., Iowa
We're pleased to provide such a great service, while helping you keep all of your limbs!
"Thanks for a great product! It's what gets me through class and my commute! A true lifesaver. – Mary Z. Stanford, California
There's that name again! This time both figurative and literal! Way to go Foosh!!!
"I pop a couple of these when I get in to work and WHAM! I'm ready to go! And I do it without getting the nasty coffee breath like my boss does." - Joe P., New Jersey
Offer your boss some Foosh, you'll both be glad!
"Thank you for developing this product! These are a lifesaver during long classes or work days when I can't get to a Starbucks!" - Dan B., Texas
Once again, Vroom Foods, Inc. to the rescue, and it is way cheaper than those calorie filled coffee drinks, too!
"Thanks for the excellent service! You've won a customer for life. I tried a Foosh just before going on my daily run. Perhaps it was the wind at my back…perhaps it was the Foosh…anyway, I trimmed almost a full minute off my run time." - Gordon L., North Dakota
It was the Foosh. We hear this all the time!
"I'm in the Navy & deployed in Iraq. I absolutely love your Foosh mints! They really help me to get through the long days when I would otherwise be dragging." Chad E., in Iraq
Glad to know we are doing our part!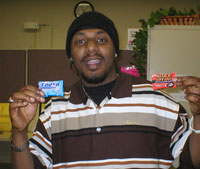 "I'm a pilot and I find that "solid" coffee works better from me in a light airplane than cups filled with hot liquids do." - Bill A., Virginia
Now you can freely indulge in aerobatics while enjoying your morning caffeine! No more worries about spills, stains or scalding!
"The mints really are very good indeed, and they make me feel much more awake. In fact, I actually managed to stay awake all through a 90 minute meeting this morning. I've let a few of my colleagues try them, and I have never seen people work so fast." - Simon B., Sussex, U.K.
Foosh, Britannia!
"I think I have a problem. I opened a new tin yesterday and I only have one Buzz Bite left. I have issues! I love these things way too much!!!" Traci H. –Newport Beach, CA"
This has been known to happen. Our solution: buy more!
"Hello, I have a Foosh mint in my mouth and…wow…just wow." - Aaron C., Ohio
We know just what you mean!
"I've been buying these tasty mints for a long time now. I'm an information security professional, and they keep me alert and sharp!" - Brad B., New Jersey
We can imagine the headline: Foosh fanatic foils file felons!
"Now I can keep up with my coffee swilling, nicotine puffing, no-kids-having colleagues. Keep up the good work." Frank S. Mountain View, CA
Foosh: championing the cause of java-abstaining, non-smoking parents everywhere!
"By God I love these mints! I've tried all the other so called "Caffeine Packed" mints, but by far, Foosh mints are the only ones who can claim that title." - Dillon M., New Jersey
It takes 42 of those "other mints" to equal one Foosh. Foosh proudly accepts the Title!
"Here at West Point, we don't usually get more than 5-6 hours of sleep each night and our days are very physically demanding. We are always looking for a quick and easy way to stay awake during classes. Energy drinks and sodas are costly. I will be sure to spread the word about your new product to all of my fellow cadets. Daniel P., New York
Nice to know we are doing our part for the young men and women preparing to serve our country!
"I'm big on Foosh. I'm a TV editor and the mints come in really handy on these long edit sessions when I can't get out of the bay to get a cup of coffee!" - Wendy Q., Los Angeles, CA
Happy to help!
"I love these things! I tried just one and I was then a believer – You've got a winner here." - Mike T, Battle Creek MI
Thanks! We are all believers too! It took a lot of Foosh Energy Mints to get this company going.
"It only takes that one time spilling coffee all over your papers in class to realize how much better FOOSH is. Thanks to these mints, I get the energy I need, exactly when I need it!" - Lily R. Glendale, CA
We're glad you're enjoying FOOSH – we also wish we had had these during college.
"These things are like sticking your finger in a light socket! Rock On, Vroom Foods!" - Drew S. Costa Mesa, CA
Our lawyers would like us to inform everyone that FOOSH Energy Mints and Buzz Bites are NOT like sticking your finger in a light socket - which could be very dangerous. We appreciate the sentiment, though!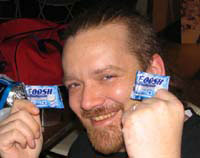 "Let's just say your chews have made me and my girlfriend very happy – nudge, nudge, wink, wink." - Pat H. Wellesley, MA
Well, we're not going to make any claims that FOOSH or Buzz Bites make you better lovers, but given the frequency with which we hear this comment, we can only assume your partner likes it when you stay awake.
"I love these things – actually, I love them so much, I think I might be able to sell them for you. Is that possible?" - Andy K. Needham, MA
Sure! If you think you've got what it takes to be a Vroom Foods, Inc. distributor, just check out our Vroom Foods Distributor page.
"Forget Vodka with an energy drink! One Foosh before I go clubbing with friends keeps me going, not to mention it lets me get a little closer to the ladies." - Trevor K., Los Angeles, CA
Thanks for sharing.
"I don't drink energy drinks or coffee cause I would always be in the bathroom (I'm a truck driver). You've solved my problem. - Ron B. Carlsbad, CA
Glad we could help.
"I've been using FOOSH for about a month to start my day at work and fight against food coma after lunch. My boss has really noticed the difference!" - Don F. Costa Mesa, CA
Cool! It's a pretty tough world out there and if we can give you the edge you need to win the rat race, that makes all the work worthwhile!
"No more stained teeth or bad breath and ready whenever I want it, why didn't I think of that?" - Wayne K San Diego, CA
We are glad you didn't.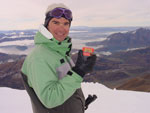 "These things are a 'Must-have' for skiers, especially on the double black-diamond slopes my friends and I ski. I wouldn't hit the slopes without them!" - Tony R. Naples, Italy
Wow. When we said "Cool" we thought it was just an expression! Thanks, Tony,we're thrilled we can help you stay sharp on the slopes!
"The power of Foosh™ is not to be underestimated. I had 1 mint before going to the gym and had the best work out of my life. The effect was nearly instant. A little Foosh™ goes a long way!" - Bob K San Dimas, CA
We are constantly hearing how our products help people do things better. One often overlooked benefit is our economy. Think about it. Just think what our GDP would look like without the energy created from Foosh™ or Buzz Bites™

"Everyone! These products are the bomb! If you need a little kick in your afternoon or an extra hour or 10 in the evening, then FOOSH Energy Mints and BUZZ BITE - Chocolate Chews are the answer. No more $4.00 cups of Starbucks coffee with the follow up rot-gut - now I have to eat a meal to buffer the acid! - Just pop a Buzz Bite and go!!! " - Charlie - Newport Beach, CA
Thanks Charlie, but people may think you are biased since you are our web guy.